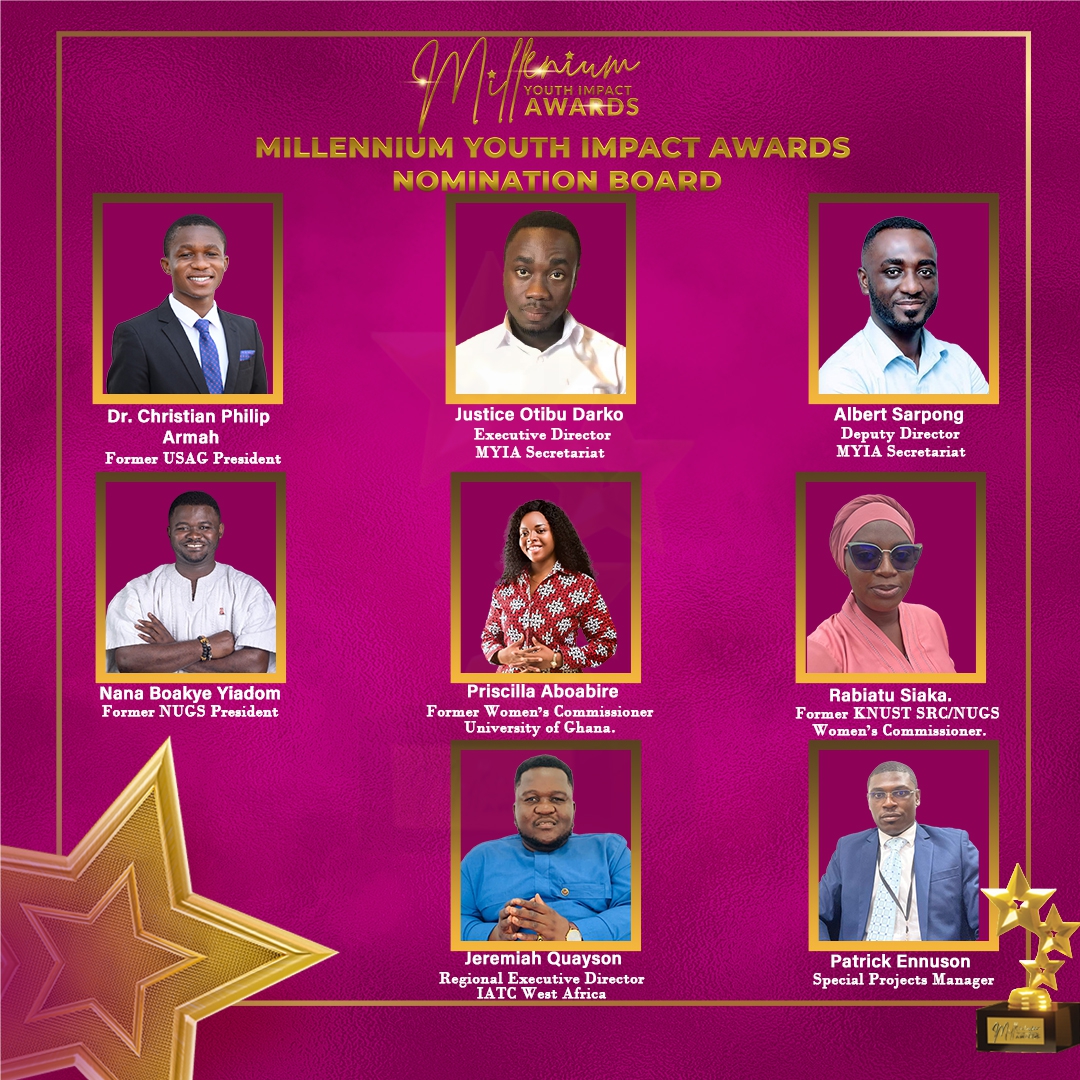 The Millennium Youth Impact Awards is an initiative of Youth Leadership Parliament, Ghana's biggest Model Parliament for building the capacity of  aspiring young leaders across Africa for impact. This awards event is organized yearly to celebrate the achievements  and impact of  Youth Leadership Parliament, Universities Globally, Statemen of the Republic of Ghana, CEO's of Businesses/Corporate Ghana, Political leaders, Heads of  Government Agencies, Civil Society Organizations and Philanthropists.
THEMATIC AREAS:
The Millennium Youth Impact Award is focused on 3 areas
1. Value addition
2. Transformation of lives
3. Creation of enabling environment for development
OUR VISION:
Rewarding and Celebrating the heroes of society to connect their values to uplift young leaders for the total transformation of communities in Africa.
OUR MISSION:
1. The establishment of a Millennium Project fund for social intervention projects in the 16 regions of Ghana for Value additions to lives, Transformation and the creation of an enabling environment for national development.
2. To award and celebrate the contributions made by Political Leaders, selfless Philanthropists, Individuals, Private Businesses, Heads of Government Agencies, Foreign Diplomats and Diaspora for the development of Ghana.
3. Encourage the investment of more corporate social responsibilities towards the creation of an enabling environment to support the creativity and innovation of young people to excel, develop and grow.
CRITERIA:
Selected nominees must satisfy the following
1. The activities, business or profession of nominees must have created value addition to the lives of young people
2. The nominee must have created the enabling environment for the development and capacity building of the youth of Ghana
3. The activities of nominees must have brought about the transformation of lives in communities.
SELECTION PROCESS:
The process of choosing nominees is a rigorous one.  Awardees are nominated by members of the Youth Leadership Parliament across the 16 regions and submitted to the Governing Board for review and scrutiny. Such persons or organizations must have met 3 criteria of impact and focus of the initiative
Having satisfied the above, a short-list of qualified nominees for the year is published and subsequently informed and presented with their awards or citation at the Millennium event.
CATEGORIES
Nomination for awards covers 5 major categories
1. GOVERNANCE :
Nation Builder's Award   ( Specific sector will be indicated)
2. CORPORATE:
Millennium Best CEO Awards (Specific sector will be indicated )
Rising Star Award (Specific sector will be indicated)
3. EXCELLENCE IN LEADERSHIP : (Specific sector will be indicated)
4. DIASPORA  PARTNERSHIP IN DEVELOPMENT AWARDS
5. YOUTH IN  LEADERSHIP AWARDS :
1. YOUTH PRESIDENT OF GHANA
2. YOUTH MINISTER OF FINANCE
3. YOUTH MINISTER OF FOOD AND AGRICULTURE
4. YOUTH MINISTER OF ENERGY
5. YOUTH MINISTER OF TRADE AND INDUSTRY
6. YOUTH MINISTER OF ENVIRONMENT SCIENCE, TECHNOLOGY AND INNOVATION
7. YOUTH MINISTER OF GENDER, CHILDREN AND SOCIAL PROTECTION
8. YOUTH MINISTER OF NATIONAL SECURITY
9. YOUTH MINISTER OF WORKS AND HOUSING
10. YOUTH MINISTER OF EDUCATION
11. YOUTH MINISTER OF ROADS AND HIGHWAYS
12. YOUTH MINISTER OF HEALTH
13. YOUTH DIPLOMATS
14. DIPLOMAT GH-UK
15. DIPLOMAT GH-CANADA
16. DIPLOMAT-GH-U.S.A
17. DIPLOMAT GH-GERMANY
18. DIPLOMAT GH-CHINA
19. DIPLOMAT GH- NETHERLANDS
20. DIPLOMAT GH- SOUTH AFRICA
21. DIPLOMAT GH-EU
22. DIPLOMAT GH-AU
PARTNERS:
Ghana Enterprise Agency, Food & Drugs Authority, York St. John University UK, Parul University in India,  Media 7 Productions, Multimedia Joyprime,
MILLENNIUM IMPACT PROJECT FUND:
Nominees and Winners of the Millennium Youth Impact Awards make a benevolent contribution to the Millennium Project Fund to support the delivery of life-changing projects across Ghana to make an impact on human lives and deliver value addition.
There is an intentional focus to groom young leaders to become the finest of young leaders in Africa to lead change and development in communities through the delivery of strategic social intervention projects.
They also benefit from a wide network high profile individuals to share experiences and become Role Models, programme implementation, seminars, project interventions and access to quality education through many available international scholarships.
DONATIONS:
Award nominees during every Millennium Award celebration and event, make benevolence donations to the funds to support projects of this initiative for sustainability, impact and transformation.
PROJECTS IN FOCUS:
1. Schools Under Trees
2. Girl Child Support
3. Water And Sanitation
4. Academic Material For Students
5. Entrepreneurship
6. Mental Health Support